Nacho Christmas Cards (x5)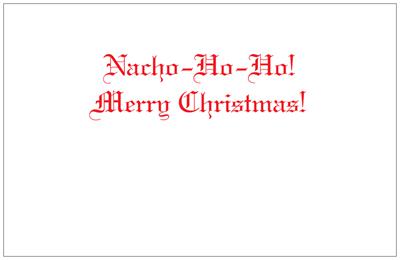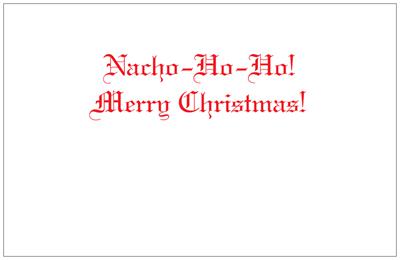 Nacho Christmas Cards (x5)
You're an adult now. You pay your taxes. You go to the gym so you can eat like you did when you were young. You work some job you probably do just so you can get by. You have to send out Christmas cards because that's what your friends expect when they send you photo cards of their adorably cute children.
You feel old, because you are, but you still want to feel young and hip. Subversive even. Some boring old Christmas card from the store isn't going to cut it, and if you send your Gammy the Krampus card you really like she'll have a heart attack, and you weren't even written into her will! No, you need something that says, "Yes, I'm the kind of individual who sends out Christmas cards, but I'm also the kind of person who describes themself as 'whimsical' ironically, and loves nachos."
These cards are what you need. With them you will be able to wish a most nacho of holidays to 5 of your closest friends or family who would appreciate such a thing. So make sure you end up on Santa's "Nice" list this year and pick up some of these fine cards and support the United States Postal Service.